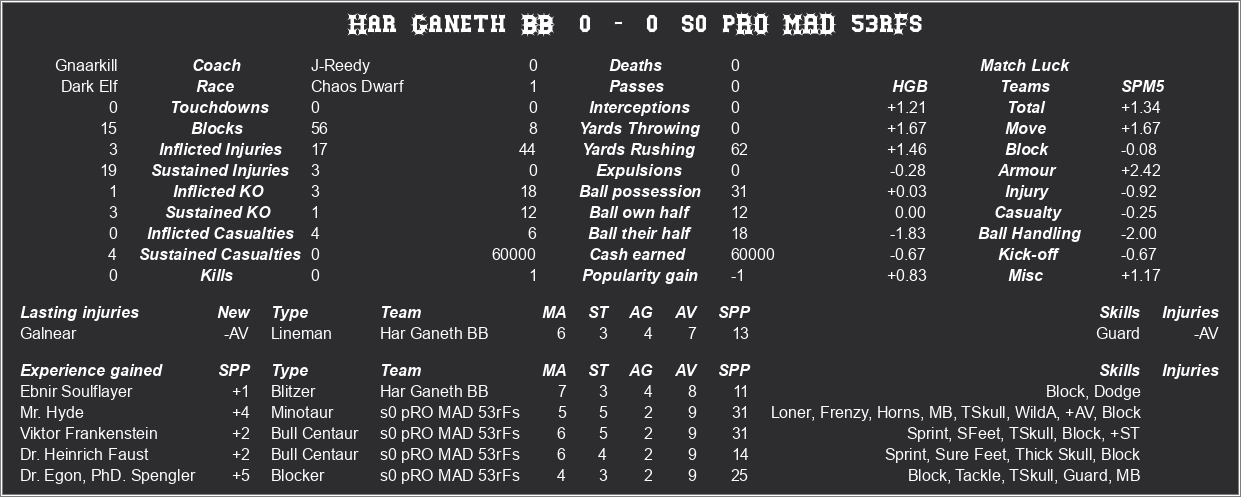 Well, this one was bit of a curious one. Nothing happened on the field touchdownwise and after 1st half there was only 1 injury on the stats. MAD ones had started on offence and got to the scoring distance but then the Dark ones committed to getting ball out and that they did when every Serf was tied up and forced to block, leaving a chance for a ball-carrier blitz. The Elfs also almost scored a defensive TD but where stopped by unlikely butterfingery.
2nd half the skies opened and it started pouring down like the day before that cruising line owner from deep inland, you know the one, who everybody mocked "No, no, No-a not gonna sail" because the dude's name was Noa and he had started building a luxury yacht on the desert, you know the story, day before he finished that thing it started raining so hard that the desert flooded within a day and that dude made a fortune selling tickets to people who didn't want to drown, though rumour is that International Wizardry Union of Moisture and Percipation Control got a decent chunk of that loot, but I digress, as I said, it started raining. Which meant that the scoring play for the Har Ganethians thunked on the ground and started a contest of who could look the silliest trying to pickup the ball from the middle of mass of Dwarfs and Elfs. It was a tie, like the game itself.
Thanks again for the game Gnaarkill, pleasant affair like always. Sorry about that MVP hitting your hired star-player, that's always nasty.